Former Rum Barrel bartender a finalist in Tommy Bahama's Rumologist Contest
Jack Terry, 39
Key West, FL
Jack Terry makes a mean rum drink. After all, he's been doing it for 15 years, honing his mixology skills behind The Rum Barrel Bar with our more than 150 rums from all over the world.
Mix all that with a lot of personality and a life's philosophy based on the eternal weekend, and you have a Top 5 Finalist in Tommy Bahama's Rumologist™ Contest.
Terry, one of the Rum Barrel's first bartenders, is vying for $50,000 and the title of Tommy Bahama Rumologist™ with contestants from Osprey, Fla; Orange, Calif.; Seattle, Wash.; and Los Angeles.
See Jack Terry's video submission to Tommy Bahama
"We look forward to continuing our quest of being the foremost experts on rum, as well as the purveyors of amazing rum cocktails," said Rob Goldberg, Tommy Bahama senior vice president of marketing and restaurants in a prepared statement.
Besides being an all-round fun and carefree guy, Terry is also a self-published author of Chasing Ghosts, he has his BFA in acting from NYU, and he worked as a bartender in the late '90s in LA while trying to make it as an actor in Tinseltown. He's currently bar manager at Bagatelle in Key West, and has lived here for a little over two years.
Voting for Jack Terry ends on Oct. 10, so vote now on Tommy Bahama's Facebook page!
We plied Terry with a few questions–as opposed to liquor–about being a mixer, drinker, and big liver of life. Here's what he had to say:

How long have you been a mixologist and drinks connoisseur?
I've been in restaurant business for 17 years and a bartender for 15. It was something I fell into because I wanted to try something new. About six years ago, I was one of the first bartenders at the Rum Barrel when it just opened, and I was like a kid in a candy shop because the Rum Barrel has so many rums. I realized I could play with this stuff. That really took me from being bartender to being a mixologist.

What's your favorite rum and why?
Ron Zacapa XO, a Guatemalan 23-year-old aged rum. It is the best rum. It's unreal. People think rum is Captain Morgan or Bacardi, but this sets the bar. It'll change what you think of rum. It's full of flavor from beginning to end. I give it to scotch drinkers and I say, "You think this is rum? Follow me down the rabbit hole, let's have some real fun."

What's your favorite drink?
If I had one drink left to have, it would be Captain Courageous. It's one I did and it's a great combination of flavors. You're familiar with what's in it, but you don't expect it to taste that good: spiced rum (Kilo or Capt Morgan), aperol, fresh mango, and simple syrup. Of course, when I'm done with my shift and mixing drinks all day, I go for a shot of Jameson and a bottle of Bud Light. When you see me with those, you know I'm done.

What's your process for coming up with a good drink?
I look at what I have and how they play with each other. Is it sweet? Is it bitter? It's knowing what flavors work with each other.
What's your 'fondest' drunken customer memory?
This guy walks into the bar and says, "Oh my God, I'm so drunk." So I said, "Well, I can't serve  you." And he fussed and ranted and eventually left. I just think it's funny that people come to Key West and they think it's an R-rated Disney World, but it's not. We've got rules, too!
Why did you enter Tommy Bahama's Rumologist Contest? Did you expect to get this far?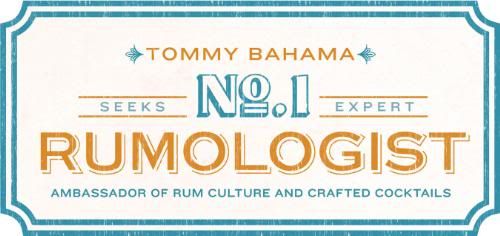 A friend sent me the link to it and I entered on the last day. I was like, someone wants to pay me to travel the world and sell rum? I'm on it like you won't believe. The fact that I got this far is really mind-blowing. It's so awesome and scary that I get to be here. Tommy Bahama says that life is one long weekend and that's all I do. I'm just trying to promote that lifestyle and I'm lucky enough to live it. It's something I've been training for my entire life. Anyone can study rum and be a rumologist, but it's the joy of living the carefree lifestyle. And that's my lifeline; it's what I've been doing. I can create a whole new generation of rum drinkers and it's awesome to think I can influence people to drink rum.
What do you want to be when you grow up?
Do I have to grow up? *chuckles* I just see every new opportunity as a chance to do something different. I want to be a writer and bar owner and a friend. A nice neighborhood bar owner, who sells novels and sells great drinks. Give me that.